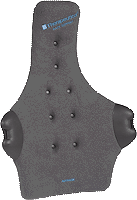 THERAPEUTICA BACK SUPPORTS
Supports the neck and back. Helps pain and posture.
Use at home, office, in car
Convenient (slim and small)
3 different sizes (tall/med/small)
EXERCISE BALLS
Prevent chronic back pain, increase flexibility and are great for sports training, increasing core strength and balance.
4 sizes:
45-55 cm ball
65 cm ball
75 cm ball
85 cm ball
Different sizes for people by height – make sure knees are at a 90º angle.
ORTHOTICS
Through biomechanics examination and gait analysis, custom orthotics may be prescribed to correct for poor foot mechanics.
Our orthotics are customized for your individual needs and are slim fitting and can be worn with your everyday footwear. We also carry a range of custom footwear.
THERAPEUTICA SLEEPING PILLOW
Helps prevent neck and back pain through proper spinal alignment. "T" shaped. You can lie on your side or back using it. 5 sizes
Petite / Average / Large / X large
MUSCLE STIM (POCKET THERAPIST)
Helps relax muscle tension. Can be used anywhere. Not for use on the chest for people with pacemakers. Nor over the eyes, or on pregnant bellies.
5 programs of use, different intesity levels
Can use for either 15 or 30 minutes.
THERABANDS
Surgical tubing with different strengths. A great resistance exercise, lightweight. Great for rehabilitation.
ACUBALL
The Acuball's patented design features apply 100% natural acupressure and heat
1. relaxes tight muscles,
2. enhances joint movement,
3. reduces nervous system irritation,
4. stimulates blood flow to flush out built up muscle wastes,
5. releases natural painkillers and sedatives,improves nervous system energetic flow.
THUMPERS
Massage vibrators. Convenient, easy to use.
You can give yourself a massage.
WORK BACK SUPPORT
Prevents back strain, with low back / abdominal support. Lightweight, breathable material, removable shoulder straps. Helps support muscle spasms.
Different sizes: XS/SM/med/large/XL/XXL
SACROILIAC BELT
Non-elastic, supports the lower back, smaller, thinner.
PATELLAR STRAP
For tendonitis of the knee. Takes pressure off the tendon, straps around the knee.
GEL PACKS
Helps reduce swelling and inflammation. Use anywhere on your body.
3 different sizes (5×8 / 6×8 / 8×10)
OAT HEAT BAGS
Used for pain on neck and back and other areas. Great for menstrual pain and stomach cramps. Helps ease arthritic pain too.
Orthotic Type: Casual
Shell: Black carbon flex, 2mm
Top-cover: Vinyl, black
Midlayer: 1/16" Poron
Design Feature: N/A
Clinical Advantages: The Casual Orthotic provides a good degree of correction but is still padded for comfort and wearability. Good for a wide variety of everyday casual shoes.
Orthotic type: Dress
Shell: Black carbon flex, 2mm
Top-cover: Vinyl, black
Midlayer: N/A
Design Feature: Select Dress Flat on the order form for high heel shoes, or a heel cup for men's dress shoes.
Clinical Advantages: The Dress Orthotic is a low profile orthotic that is designed to be narrow with very little padding. Because of its sleek design it can be transferred into most dress shoes.
Orthotic Type: Cobra
Shell: Blue carbon flex, 2mm
Top-cover: Vinyl, black
Midlayer: N/A
Design Feature: A distinct 'cobra' grind is applied to the shell that leaves the middle of the heel open.
Clinical Advantages: The Cobra orthotic design allows for the heel of the orthotic to be compressed into different sizes. This makes it perfect for patients who frequently switch between dress shoes because it can be contracted to fit various heel profiles.
Orthotic Type: Sport
Shell: Black carbon flex, 2mm
Top-cover: Mesh, 1/8" blue
Midlayer: N/A (if vinyl is selected it will come with a 1/8" poron midlayer)
Design Feature: N/A
Clinical Advantages: The Sport Orthotic is designed to have a degree of flexibility and is also padded by our mesh top-cover. It is perfect for sport applications because of its flexibility and the mesh top-cover's ability to wick away moisture and resist wear.